TRAVERSE CITY WEDDING AND EVENT VENUE
BlueBridge Reviews
---
"I truly do not know where to begin with how amazing BlueBridge is. They made our wedding day the absolute BEST day of our lives. Right from the beginning they made us feel so welcome and told us that they were going to be with us every step of the way..and they surely were! One thing I love about BlueBridge is that they have a DJ, florist, day of coordinator, and alcohol all in the package if you so choose! Until I started planning a wedding, I didn't realize how this would wind up being a true life saver. Not to mention, the venue is absolutely gorgeous. We used their florist, Stephanie, and it was the best decision that I made! The flowers were INCREDIBLE. She took care of set-up, take down, centerpieces, and any other decor we needed! It made the day of very stress free for us. Chris helped us with alcohol and he was extremely pleasant and so nice to work with. BlueBridge brought everything we wanted to life, even if it was something they had never done before. I got so many compliment on our day of coordinator, Elizabeth because she truly took care of EVERYTHING! Everything that I thought I would have to do, she did it all. My sister in law is a wedding photographer and even she said she had never seen such amazing attentiveness and service. No one including myself had to set up ANYTHING the day of the wedding. The day of coordinator and her assistant took care of everything. Their DJ was AMAZING!! Multiple people told me that they had never seen so many people on the dance floor at a Wedding. The dancing is what made it so much fun. He also took care of all the music at the ceremony. EVERYONE there said it was the best wedding they have ever been to. Not just because of the atmosphere, but also because of how organized it was and the attention to detail by all the staff. My husband and I stayed in the apartment/suite attached to the venue and it was so nice to just walk to our room at the end of night vs having to drive/travel somewhere. I could write a book about how BlueBridge is truly the best wedding venue out there. I would recommend them a thousand times over. They gave me the best day of my life!!"
-Bride, Lauren R. // Married on 10.26.19
"This venue is stunning but the people/staff you work with make it even better. They are so passionate about what they do and truly care about the couples who they work with. They will do anything they can to make your day perfect. I can't speak highly enough about Stephanie, Chris and Polly. They are an incredible team and make planning a wedding not quite as daunting! Stephanie is magic when it comes to florals, Chris is good at pretty much everything, and Polly is the most detailed person I've worked with! Everything about this place is beautiful. You will not regret it! We are still swooning and it's been about a month since we spent our day there. Book this venue! You won't regret it!."
-Bride, Heidi D. // Married on 8.16.19
"I work in the wedding industry as a wedding photographer. So I've seen a lot of venues and venue teams but NO ONE compares to Blue Bridge and their incredible team!! Even before I stepped foot onto the venue I was contacted by one of their event coordinators and felt immediately connected with them. I arrived early the day of the wedding that I was to photograph and every single person at blue bridge was kind and helpful. They clearly know what they are doing and have hired the best of the best!! If I felt that way as a vendor imagine how loved and cared for you'd feel as a couple!! If you're considering a wedding venue in Northern Michigan, Blue Bridge Event Center is 100% the easiest choice I would make!! Can't wait to work with you guys again and again!!"
-Wedding Photographer, Ashley B. / Married on 8.9.19
"My nephew was married at BlueBridge last Friday. As a quest I cannot express how nice and beautiful this event was. The food, music, all staff member, coordination of the event were superb. It was such an open setting. We loved the outdoor area that was offered. You felt like you were in a park. I think we are all going to be talking about his and his wife wedding for a long time. This was a destination wedding, there are plenty of lodging choices close by for all budgets."
-Family Member, Cioci A. / Married on 7.19.19
"We fell in love with this venue from our first visit with Chris and Stephanie. Aesthetically, it is the most beautiful representation of Northern Michigan in a cozy, whimsical, woodsy setting. I could go on and on about how incredibly lovely the place is, but you really should just look at photos and walk through it yourself. More importantly, it is run by the most thoughtful and supportive staff; they want nothing more than to make your wedding the most meaningful day of your lives. Chris and Stephanie are so down to earth and literally could not be easier to work with. They, with the addition of their wonderful planners and staff, think of every detail and make the process seamless while also being truly enjoyable. We were planning from a couple hours away, and that seemed daunting at first, but this group of people alleviated our stresses at every decision in the process. They are clear and communicative; their system is well thought out and mindful of all the things you may not be aware of while planning.
I cannot emphasize enough how much our guests enjoyed themselves on the wedding day. The set up of the venue allows for people to converse in the beautiful garden, cozy up by the fire, or have a blast on the dance floor. I think all the different spaces made people feel comfortable at all times, not like they were required to stand around or watch people dance. And there is no area of the venue that isn't gorgeous.
Lastly, I want to speak to Stephanie's floral design and decor skills. This part of the planning process is something I was really interested in from the beginning and I had tons of ideas. Stephanie patiently went back and forth with me in person and via email for a few months. On the day of the wedding, I was blown away by what she was able to accomplish. Her arrangements were the most perfect amalgamation of colors, sizes, and textures. The florals and decor unified our palette/theme and enhanced the beauty of the venue.
At the end of the day, their prices are incredibly reasonable for what they offer. And I think that speaks to Chris and Stephanie's character and vision; they are the best people in this business. I can't cover every aspect of the place without rambling on and on, but I urge you to go visit and fall in love with it yourself."
– Bride, Emma H. / Married on 7.12.19
"We got married here June 28th, 2019 I want to do it a million times over again! Because of the venue and staff we would not have changed one single thing. It was the most perfect day you could ever imagine! The staff felt like family and they care so much about you and that your day is perfect. Being this was a destination wedding for us the made my stress level so low! If we had any questions/concerns anything we could email or text and got an almost immediate response. They made our day exactly what we envisioned! The flowers and decor were perfect, it brought me to tears. DJ was awesome! Chris, Polly, Amanda, Stephanie, Emily, Ryan, everyone thank you! I'm jealous of everyone who has their wedding there now because I want to do it again! 🙂 We got so many compliments that our wedding was the most romantic, gorgeous wedding they've ever been to. If we had to do it 100 times over we would choose BlueBridge every time without a doubt."
-Bride, Jill / Married on 6.28.19
"If you are looking for a wedding venue in Traverse City Michigan, look no further than BlueBridge, this place is a first class venue, the place and people are magical in all that they do. Polly was fantastic and made all the planning and dreams come true. Once your wedding day has ended, the words that come to mind are WOW, WOW, WOW, your guests will be talking about the wedding for months / years after. We consider ourselves very fortunate to have chosen and been part of this great experience."
-Groom, Tom E. / Married on 6.27.19
"I am a BBQ caterer and we catered a wedding at Blue Bridge Events Center on June 1, 2019. The property inside and out is well maintained, beautiful, clean and organized. The event coordinator Polly was easily the best I have ever worked with. She had a schedule of how the day was to go and it went flawlessly. Her personality and level of care is second to none."
-Wedding Caterer, Bryce Z. / Married on 6.1.19
"We had our wedding reception at BlueBridge in May 2019 and it was a dream! The venue itself is absolutely gorgeous, and the BlueBridge team ensured that we had a wonderful experience! BlueBridge offers several in-house services which takes a lot of stress out of planning. Chris and Stephanie are the owners and they are both such warm, friendly people. Stephanie did our flowers and they were so stunning! BlueBridge also comes with a day-of-coordinator for weddings and Polly was BEYOND amazing. She was so sweet, supportive, and helpful! She made sure everything went smoothly and that we had nothing to worry about on our day. There are SO many unique details that BlueBridge offers that really sets it apart from other venues. It's also right by Ellis Lake so we were able to take a short golf cart ride to the lake to get incredible sunset photos! We couldn't have asked for a more beautiful venue, friendlier staff, or a more perfect wedding day. Thank you BlueBridge!"
-Bride, Rachel N. / Married 5.25.19
We fell in love with this venue the moment we stepped in. Not only is it magical but it is efficient and well run. From start to finish everything was well taken care of and this allowed us to fully enjoy our day. You could not go wrong here, we made hundreds of perfect memories and wish we could do it all again!
-Bride, Christina C. / Married on 5.4.19
"I cannot even begin to describe our incredible experience with Blue Bridge. It started in September when we went for a tour and ended in February with a PERFECT wedding. Polly, Chris and Stephanie exceeded all expectations with their knowledge, professionalism, flexibility, kindness, and passion for the business. They handled every detail (big and small) so we all could enjoy the amazing day without worrying about a thing! The venue is beyond beautiful and the flowers that Stephanie created were exactly what my daughter had envisioned. If you are lucky enough to find your date available BOOK IT!! You wont believe how your day will become effortlessly PERFECT!"
-Mother of the Bride, Suzie F. / Married on 2.23.19
"WOW! Where to begin. As a photographer, I shoot at many venues and work with a ton of day-of-coordinators but the crew at BlueBridge blew everyone out of the water. I started communicating with Polly, the wedding coordinator, two weeks before my couple's big day. We ironed out day-of details before the day even came. The wedding I was shooting happened to be in the winter and Polly offered up her home if the weather got bad. The actual night of the wedding Chris, the owner, offered up the suite attached to the reception venue if the roads got too bad. Like who are these incredible humans? But aside from the crew's sweet hearts, they worked together seamlessly. There was constant communication between the DJ, coordinator, owner and me to make sure we were always on the same page. Brides, if you want to enjoy your wedding day and let someone else take the reins – this team has you covered. Don't even get me started on their location. Woodsy, modern elegance. With a lake and forest nearby. This is the venue dreams are made of."
-Wedding Photographer, Avery P. / Married on 2.23.19
---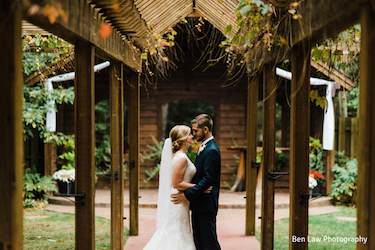 ---
Weddings
---
Our desire at BlueBridge is to partner with you so your day is everything you dreamed it would be while at the same time making it worry free.
---
---
Get Started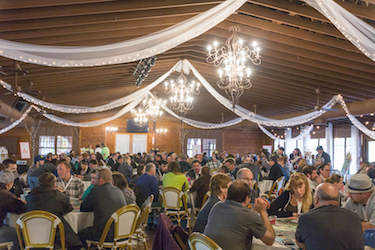 ---
Events
---
BlueBridge is truly the perfect location for your corporate or family event.
---
Get Started