TRAVERSE CITY WEDDING AND EVENT VENUE
BlueBridge Reviews
---
"Beautiful place. Great design & ambience. Wonderful place for a wedding or party. Pleasant & attentive staff."
-Wedding Guest / Wedding 10.22
"I would recommend Bluebridge every single day for every single bride. The whole experience was smooth from the day we booked until the end of the wedding. Chris, Stephanie, and all the staff there were incredibly helpful and well-established in their craft. I have no complaints or criticism. Not to mention, the grounds are STUNNING. No doubt about it, you will have the wedding of your dreams at Bluebridge." 
– Bride, Claire I. / Married 10.7.22
"As Mother of the Bride, I had the most beautiful experience for me and my daughter with Polly! She is the most kindest and best coordinator anyone could have!! Her 35 years experience walked us through everything! Now the venue was commented by all of our guests as the most beautiful venue they have seen! Pics don't do this place justice. We have never been soooo happy to have picked the venue! And my son on law found this hidden gem!!!! We had so much fun and so many areas for people to mingle !! Thank you Polly you are a treasure and a friend forever! Absolutely love Blue Bridge!!"
-Mother of the Bride, Corinne F. / Wedding 7.29.22
"The staff and vendors at Blue Bridge went above and beyond to make sure that every detail was taken care of for our wedding day. Chris, Amy, Stephanie, and Ray made the whole experience from planning to execution as smooth as possible. The venue/property was the perfect balance of woodsy, yet elegant. My wife and I wouldn't have changed a second from our wedding and would highly recommend any other couple to have theirs at Blue Bridge. Thank you again!
-Groom Nick M. / Married 6.24.22
"This was the absolute best venue for our wedding. I cannot recommend BlueBridge enough. While the venue on its own is absolutely stunning, what you don't realize when you book with BlueBridge, is that you also get a Day of Coordinator which is HUGE. I had Polly and she handled everything related to the day of the wedding including contacting and coordinating all of the vendors as well as ensuring everything ran smoothly and that we stayed on time. I cannot emphasize how wonderful that was. I know for a fact, that the day would not have gone as smoothly as it did if it wasn't for Polly and the AMAZING BlueBridge team. If you are considering this venue, you should just go ahead and book, you will not regret it one bit. Our day could not have been more perfect, we loved it and our guests did too."
-Groom, Brette S. / Married 5.14.22
"Could not have asked for a more magical day! Everything is taken care of by Polly and her staff, wonderful people! I would highly recommend BlueBridge to anyone looking for a beautiful venue for their wedding."
-Mother of the Bride, Debbie I. / Wedding 4.30.22
"Absolutely love Blue Bridge!! From the moment we had our tour with Polly, we knew this was where we wanted to get married. They make the wedding planning process a breeze, even for a bride with a million questions (i.e. me). Pajas ended up being our day of coordinator and our wedding went off without a hitch! She was kind and very helpful! As were Chris, Stephanie, Maxwell and Beth Ann. The space is absolutely stunning, we've gotten many, many compliments on how beautiful our wedding was there. Even though it was a cooler October day, our guests loved being able to be outside, either by the fire or under the heat lamps. We couldn't be happier with Blue Bridge!"
-Bride, Tara V. / Married 10.21
"Getting married at Blue Bridge was the best wedding decision we made. From the onset, Blue Bridge makes the process easy with preferred vendors and effective systems. Chris, Stephanie, Polly and the entire team at Blue Bridge made us feel like family and did an incredible job working with us to create the day we envisioned and then bring it to life. The team was responsive, patient, and flexible during the planning process. They guided us when needed and adjusted to our requests as they came. On our wedding day, we felt calm and relaxed as we were confident the team had us taken care of. We received so many compliments at how beautiful the venue was and how well organized our day was. If you are considering getting married at Blue Bridge, please do it. We could not be happier with our experience."
-Groom, Chad M. / Married 9.18.21
"I could not be happier to have chosen BlueBridge for my wedding. BlueBridge is so much more than just an event space. The venue has an event coordinator included in the price who is on top of every single detail. They are so organized and think of every small detail that I myself would never have thought of. The day of my wedding they made me feel like absolute royalty, my day was flawless. They even have a DJ and florist (optional) on site for you to use. The DJ did an amazing job and the flowers were stunning and very reasonably priced and you don't have to worry about finding yourself. The venue itself is beautiful and well maintained. The indoor/outdoor setting is something you can't find at many other venues…My guests have repeatedly told me how much fun they had. The flow of having areas for your ceremony, cocktail hour, and reception all in separate areas of the same location was perfect. Overall, I would say BlueBridge takes away the stress of wedding planning. Could not have asked for a better day."
-Bride, Tatum G. / Married 6.12.21
"Thank you SOOO much Chris. We loved your venue and had so many members comment about what a great time they had! Your staff was so lovely and accommodating it just made the stress of putting on the event so much easier to bear!"
-Member of Impact100 TC
"I can't imagine our daughter and son-in-law having a more perfect wedding anywhere else but BlueBridge. It was magical both inside and outside and everyone went above and beyond to make this day special!!! Christina, Rachel and the staff were amazing! Floral arrangements, flowers and decorations by Stephanie were just beautiful! Chris was so helpful and supportive as was every single employee at BlueBridge! Some comments from family and friends also included: "Enchanting, elegant, like a fairytale, stunning and simply beautiful."
-Family Member, Lynne N.
"We cannot recommend BlueBridge enough – BlueBridge is the best wedding venue in Northern Michigan! From our first tour to the final moments on our wedding day Polly and the entire BlueBridge team made us feel at home. We planned our special day during the COVID-19 pandemic and although there were difficult moments, the team at BlueBridge was always willing to answer our questions and accommodate all of our requests. You couldn't ask for a kinder, more supportive group of people and we are so grateful we chose them for our wedding!"
-Bride, Sara S. / Married 6.5.21
"What didn't BlueBridge do?! The staff at the venue is absolutely phenomenal. BlueBridge worked with us every step of the way to make sure that our day was just as special as we pictured it for April – even with a new executive order limiting the number of people INSIDE coming out a WEEK before our wedding. Our reception was moved outside to the garden area and it was even more beautiful than my husband and I could ever imagine. Chris, Stephanie, Polly and the rest of the BlueBridge staff were so attentive and worked to make it special. They even had all hands on deck to set up the tables outside DURING the ceremony due to it raining right up until the ceremony — LITERALLY. Our special day went off without a hitch and I would HIGHLY recommend BlueBridge as the best wedding venue to my friends."
-Bride, Devon M. / Married 8.8.20
"WOWie wow wow! BlueBridge Events Centre knows exactly what they are doing. I had the honor of being a bridesmaid for my sweet friend. First off the event centre itself is just unreal gorgeous! From the rehearsal dinner to the reception Elisabeth really went above and beyond. Meagan was so helpful in the morning, even letting me use the printer to print off speeches. Emily was a super sweet bartender that made you feel like you were best friends! Oh and the DJs were on it all night long! All and all this is the best place to have an event in Northern Michigan!"
-Bridesmaid, Darrian L.
"Our wedding coordinator Polly was so graceful with giving us the news about needing to change the date due to covid. She was a delight to work with. Chris, Elizabeth, Stephanie they were with us every step of the way guiding us through everything. The team was so professional and handled the changes due to covid with ease. During this stressful time they were able to still give us our fairytale wedding! The whole day went by smoothly and everyone kept telling us how magical the venue was. I don't know how I can put into words how grateful we are for BlueBridge. They treated us like family. I highly recommend and if you don't live in Michigan it's worth the trip there. We are from Indiana and would come cross country for that team. Thank you BlueBridge!!"
-Bride, Julia Z / Married 7.10.20
"I cannot say enough about this beautiful venue. Chris, Stephanie, Polly, and all staff were incredible throughout the big day and entire planning experience. There was nothing that they weren't willing to do or help with. They even made planning during a pandemic easy! Three days prior we moved our rehearsal dinner there due to a restaurant cancellation and they made it go off without a hitch. The value of this venue surpasses any other I have been to. The DJ they provided us kept the crowd dancing all night and I haven't even touched on Stephanie's floral skills. The bouquets and centerpieces were even better than I'd imagined. The entirety of the grounds are breath taking; you cannot go wrong with BlueBridge!"
-Bride, MacKenzie H. / Married 9.12.20
"I truly do not know where to begin with how amazing BlueBridge is. They made our wedding day the absolute BEST day of our lives. Right from the beginning they made us feel so welcome and told us that they were going to be with us every step of the way…and they surely were! One thing I love about BlueBridge is that they have a DJ, florist, day of coordinator, and alcohol all in the package if you so choose! Until I started planning a wedding, I didn't realize how this would wind up being a true life saver. Not to mention, the venue is absolutely gorgeous. We used their florist, Stephanie, and it was the best decision that I made! The flowers were INCREDIBLE. She took care of set-up, take down, centerpieces, and any other decor we needed! It made the day of very stress free for us. Chris helped us with alcohol and he was extremely pleasant and so nice to work with. I got so many compliments on our day of coordinator, Elizabeth because she truly took care of EVERYTHING! Everything that I thought I would have to do, she did it all. My sister in law is a wedding photographer and even she said she had never seen such amazing attentiveness and service. No one including myself had to set up ANYTHING the day of the wedding. The day of coordinator and her assistant took care of everything. Their DJ was AMAZING!! Multiple people told me that they had never seen so many people on the dance floor at a wedding. The dancing is what made it so much fun. He also took care of all the music at the ceremony. EVERYONE there said it was the best wedding they have ever been to. Not just because of the atmosphere, but also because of how organized it was and the attention to detail by all the staff. I could write a book about how BlueBridge is truly the best wedding venue out there. I would recommend them a thousand times over. They gave me the best day of my life!!"
-Bride, Lauren R. / Married on 10.26.19
"This venue is stunning but the people/staff you work with make it even better. They are so passionate about what they do and truly care about the couples who they work with. They will do anything they can to make your day perfect. I can't speak highly enough about Stephanie, Chris and Polly. They are an incredible team and make planning a wedding not quite as daunting! Stephanie is magic when it comes to florals, Chris is good at pretty much everything, and Polly is the most detailed person I've worked with! Everything about this place is beautiful. You will not regret it! We are still swooning and it's been about a month since we spent our day there. Book this venue! You won't regret it!."
-Bride, Heidi D. / Married on 8.16.19
"I work in the wedding industry as a wedding photographer. So I've seen a lot of venues and venue teams but NO ONE compares to Blue Bridge and their incredible team!! Even before I stepped foot onto the venue I was contacted by one of their event coordinators and felt immediately connected with them. I arrived early the day of the wedding that I was to photograph and every single person at blue bridge was kind and helpful. They clearly know what they are doing and have hired the best of the best!! If I felt that way as a vendor imagine how loved and cared for you'd feel as a couple!! If you're considering a wedding venue in Northern Michigan, Blue Bridge Event Center is 100% the easiest choice I would make!! Can't wait to work with you guys again and again!!"
-Wedding Photographer, Ashley B. / Married on 8.9.19
"My nephew was married at BlueBridge last Friday. As a quest I cannot express how nice and beautiful this event was. The food, music, all staff member, coordination of the event were superb. It was such an open setting. We loved the outdoor area that was offered. You felt like you were in a park. I think we are all going to be talking about his and his wife wedding for a long time. This was a destination wedding, there are plenty of lodging choices close by for all budgets."
-Family Member, Cioci A. / Married on 7.19.19
"We fell in love with this venue from our first visit with Chris and Stephanie. Aesthetically, it is the most beautiful representation of Northern Michigan in a cozy, whimsical, woodsy setting. I could go on and on about how incredibly lovely the place is, but you really should just look at photos and walk through it yourself. More importantly, it is run by the most thoughtful and supportive staff; they want nothing more than to make your wedding the most meaningful day of your lives. Chris and Stephanie are so down to earth and literally could not be easier to work with. They, with the addition of their wonderful planners and staff, think of every detail and make the process seamless while also being truly enjoyable. We were planning from a couple hours away, and that seemed daunting at first, but this group of people alleviated our stresses at every decision in the process. They are clear and communicative; their system is well thought out and mindful of all the things you may not be aware of while planning.
I cannot emphasize enough how much our guests enjoyed themselves on the wedding day. The set up of the venue allows for people to converse in the beautiful garden, cozy up by the fire, or have a blast on the dance floor. I think all the different spaces made people feel comfortable at all times, not like they were required to stand around or watch people dance. And there is no area of the venue that isn't gorgeous.
Lastly, I want to speak to Stephanie's floral design and decor skills. This part of the planning process is something I was really interested in from the beginning and I had tons of ideas. Stephanie patiently went back and forth with me in person and via email for a few months. On the day of the wedding, I was blown away by what she was able to accomplish. Her arrangements were the most perfect amalgamation of colors, sizes, and textures. The florals and decor unified our palette/theme and enhanced the beauty of the venue.
At the end of the day, their prices are incredibly reasonable for what they offer. And I think that speaks to Chris and Stephanie's character and vision; they are the best people in this business. I can't cover every aspect of the place without rambling on and on, but I urge you to go visit and fall in love with it yourself."
– Bride, Emma H. / Married on 7.12.19
"We got married here June 28th, 2019 I want to do it a million times over again! Because of the venue and staff we would not have changed one single thing. It was the most perfect day you could ever imagine! The staff felt like family and they care so much about you and that your day is perfect. Being this was a destination wedding for us the made my stress level so low! If we had any questions/concerns anything we could email or text and got an almost immediate response. They made our day exactly what we envisioned! The flowers and decor were perfect, it brought me to tears. DJ was awesome! Chris, Polly, Amanda, Stephanie, Emily, Ryan, everyone thank you! I'm jealous of everyone who has their wedding there now because I want to do it again! 🙂 We got so many compliments that our wedding was the most romantic, gorgeous wedding they've ever been to. If we had to do it 100 times over we would choose BlueBridge every time without a doubt."
-Bride, Jill / Married on 6.28.19
"If you are looking for a wedding venue in Traverse City Michigan, look no further than BlueBridge, this place is a first class venue, the place and people are magical in all that they do. Polly was fantastic and made all the planning and dreams come true. Once your wedding day has ended, the words that come to mind are WOW, WOW, WOW, your guests will be talking about the wedding for months / years after. We consider ourselves very fortunate to have chosen and been part of this great experience."
-Groom, Tom E. / Married on 6.27.19
"I am a BBQ caterer and we catered a wedding at Blue Bridge Events Center on June 1, 2019. The property inside and out is well maintained, beautiful, clean and organized. The event coordinator Polly was easily the best I have ever worked with. She had a schedule of how the day was to go and it went flawlessly. Her personality and level of care is second to none."
-Wedding Caterer, Bryce Z. / Married on 6.1.19
"We had our wedding reception at BlueBridge in May 2019 and it was a dream! The venue itself is absolutely gorgeous, and the BlueBridge team ensured that we had a wonderful experience! BlueBridge offers several in-house services which takes a lot of stress out of planning. Chris and Stephanie are the owners and they are both such warm, friendly people. Stephanie did our flowers and they were so stunning! BlueBridge also comes with a day-of-coordinator for weddings and Polly was BEYOND amazing. She was so sweet, supportive, and helpful! She made sure everything went smoothly and that we had nothing to worry about on our day. There are SO many unique details that BlueBridge offers that really sets it apart from other venues. It's also right by Ellis Lake so we were able to take a short golf cart ride to the lake to get incredible sunset photos! We couldn't have asked for a more beautiful venue, friendlier staff, or a more perfect wedding day. Thank you BlueBridge!"
-Bride, Rachel N. / Married 5.25.19
We fell in love with this venue the moment we stepped in. Not only is it magical but it is efficient and well run. From start to finish everything was well taken care of and this allowed us to fully enjoy our day. You could not go wrong here, we made hundreds of perfect memories and wish we could do it all again!
-Bride, Christina C. / Married on 5.4.19
"I cannot even begin to describe our incredible experience with Blue Bridge. It started in September when we went for a tour and ended in February with a PERFECT wedding. Polly, Chris and Stephanie exceeded all expectations with their knowledge, professionalism, flexibility, kindness, and passion for the business. They handled every detail (big and small) so we all could enjoy the amazing day without worrying about a thing! The venue is beyond beautiful and the flowers that Stephanie created were exactly what my daughter had envisioned. If you are lucky enough to find your date available BOOK IT!! You wont believe how your day will become effortlessly PERFECT!"
-Mother of the Bride, Suzie F. / Married on 2.23.19
"WOW! Where to begin. As a photographer, I shoot at many venues and work with a ton of day-of-coordinators but the crew at BlueBridge blew everyone out of the water. I started communicating with Polly, the wedding coordinator, two weeks before my couple's big day. We ironed out day-of details before the day even came. The wedding I was shooting happened to be in the winter and Polly offered up her home if the weather got bad. The actual night of the wedding Chris, the owner, offered up the suite attached to the reception venue if the roads got too bad. Like who are these incredible humans? But aside from the crew's sweet hearts, they worked together seamlessly. There was constant communication between the DJ, coordinator, owner and me to make sure we were always on the same page. Brides, if you want to enjoy your wedding day and let someone else take the reins – this team has you covered. Don't even get me started on their location. Woodsy, modern elegance. With a lake and forest nearby. This is the venue dreams are made of."
-Wedding Photographer, Avery P. / Wedding on 2.23.19
"My husband and I just got married at the Chapel Centre and let me tell you, we could not be more pleased by the combination of the owners, the PHENOMENAL work of the coordinator (Polly), the beauty of the venue, and the ease of working with all of the staff there. When looking at venues it seemed to be a no-brainer when choosing this venue for its beauty; however, it turned into so much more than that! Stephanie and Chris were so easy and wonderful to work with and they were extremely accommodating to many of our wishes and wants. Polly was extremely organized and helped turn our wedding visions into a reality; she coached me through the entire process once we got closer to our wedding date and laid out our wedding plans so that I could easily envision every detail and helped make my day the best I have ever had. I strongly encourage any engaged couples (or someone else looking to host an event) to look into this amazing venue. You will not be disappointed in their customer service and they will definitely help make your event everything you have imagined for it and more!"
-Bride, Hilary / Married 3.3.18
"My husband and I were married at BlueBridge and we could not have picked a more perfect venue to host the best day of our lives! We received so many compliments from our guests on how beautiful everything was and how great the service was! I cannot imagine planning without Chris, Stephanie and Polly; they made all of our visions come to life and truly went above and beyond in all areas. We utilized BlueBridge for virtually everything; rehearsal dinner, getting ready, ceremony, reception, bar/alcohol, took their recommendations for catering with Grandview (which was phenomenal!), our DJ, (Scot kept the party alive the whole night), and Stephanie created the most beautiful flowers arrangements for the entire thing! I cannot give enough praise to Polly who walked me through the planning process and was there with me throughout the day. She took all the details and stress away from me and calmly ran our wedding day on schedule without a hitch! There is not a single negative that I have about this venue. We were treated like family and were blessed to have these wonderful people with us to start our marriage! We have already recommended BlueBridge to others (even though we secretly want this fairytale venue all to ourselves, lol!) and will continue to do so! Cheers to you BlueBridge! A million times, THANK YOU!!!"
-Bride, Jamie K. / Married 5.19.18
"Incredible May wedding! Chris, Stephanie and staff are attentive, accessible, and timely. Perfect venue for our ceremony and reception. Quality service and venue that my guests all raved about. Can't recommend them enough!"
– Bride, Marites C. / Married 5.26.18
"Chris and Stephanie were absolutely amazing. I can not say enough great things about them or BlueBridge. If you want the best wedding experience and have the best people to take care you, than you need to call Chris and Stephanie at Blue Bridge. We will be sharing this with all. Thank you, again for all you did and being a part of our special day. And For your amazing attention, perfection, and kindness. I can not say enough great things!"
-Bride, Kelly / Married 6.30.18
"We cannot say enough great things about this venue! The atmosphere, hospitality, and views are all immaculate! Stephanie and Chris were a pleasure to work with through the whole planning process! Stephanie's creative mind took the vision I had for flowers and centerpieces and created it 10x better! Chris, Polly and Amanda helped our day run smoothly and truly let me shut off my 'planning brain' and they took care of EVERYTHING! we are forever grateful that we chose BlueBridge as our wedding venue! "
-Brides, Natalie + Laura G. / Married 6.30.18
"My husband and I got married at BlueBridge and it was everything we ever hoped for and more. The venue and grounds are breathtaking. The owners and other staff were amazing to work with. They made the planning process so smooth and easy. Our wedding day was stress free because of them. They also handled our flowers and setting up, which was great. The flowers were perfect. The whole experience was wonderful!"
-Bride, Shannon L. / Married 7.14.18
"My husband & I feel BEYOND BLESSED to have had our rehearsal dinner, wedding, and reception at BlueBridge!!! We could not have had a more magical day! We don't live in TC so Polly (the wedding coordinator EXTRAORDINAIRE) happily did a FaceTime tour with us last winter and we fell in love, picturing how beautiful it would be in the summertime and what a nice flow it would have for our guests. It was the exact setting I dreamed of!! We felt an instant bond with Polly and could tell she had the kindest heart!! When we visited in April (after a foot of snow), we had the pleasure of meeting Chris, Stephanie, and Polly in person and immediately knew that our wedding day wouldn't be the end of our friendship with them. They are so genuine and truly made us feel like family!! They went OVER AND ABOVE to make our wedding weekend the most incredible and memorable! It was absolutely perfect in every way!!! We had Stephanie as our florist and the flowers were so STUNNING and exceeded everything I hoped for – she is super sweet and talented! I cannot say enough wonderful things about BlueBridge, Chris, Steph, & Polly – all truly gifts from above for a Bride & Groom! I am so very grateful that my husband found BlueBridge! We will be forever happy we chose BlueBridge for our wedding venue and we already look forward to going back to visit!"
-Bride, Sarah M. / Married 7.28.18
"If you are looking at these reviews, you will not be disappointed with what we all have to say about BlueBridge. My husband and we're married at BlueBridge in late July and it truly was perfect. The day could not have gone any better thanks to Chris, Stephanie, and Amanda. We planned most everything from Florida and the BlueBridge team was very helpful with recommendations and suggestions. All of us girls got to spend the morning there getting ready with mimosas which was so much fun and a stress free way to spend the morning. The entire day Chris or Amanda we're making sure that we were all eating enough, drinking water, or just seeing if we needed anything! Their team is so laid back and fun, Chris even got out on the dance floor for some of the Wobble! They truly know how to make your day perfect."
-Bride, Courtney A. / Married 7.28.18
"I cannot thank Amanda and Chris enough for all their hard work putting together our wedding. They catered to our ever need and were always there for us throughout the day. When we originally booked our event with BlueBridge I never expected the amount of help we received from booking caters to setting table decorations. I always wondered what that day was going to be like and I couldn't have dreamed of a better place. When I first walked-in I knew that was the place. The venue is absolutely beautiful and was a perfect reflection of our lives. It was the best day of my life, thank you Amanda and Chris."
-Groom, Christopher H. / Married 7.28.18
"I can't say enough positive things about BlueBridge. This was our first wedding planning experience with our oldest daughter and from the time we visited for a tour until we left at around midnight the night of her wedding 10 months later, we had such wonderful service and hospitality from the entire BlueBridge family. There were no details we had to worry we'd miss because they thought of everything. They walked through the whole process with us and were there the minute we needed something. The price was great and I felt even much cheaper than other event centers when you took in consideration they are very clear right up front with the entire cost and don't nickel and dime you with charging for extras like linens, tables, chairs or other decor items you may need to use. Our guests raved about the wedding and reception we had there." 
-Mother of the Bride, Darcey / Married 8.10.18
"BlueBridge was absolutely amazing!!! My husband and I knew immediately after seeing the beautiful venue and after meeting Chris and Stephanie that we needed to get married there. They were very attentive to all of the details and were always willing to meet with us whenever we had questions. Chris and Stephanie truly cared about making our wedding day special and it showed. Whenever we met with them we were greeted with a hug which meant so much to us. My husband and I weren't totally sure about a theme or decorations, but they were able to help guide us and everything turned out absolutely beautiful. Stephanie did my flowers and I still can't get over how beautiful they turned out! Many of my guests said those were the best bouquets they've ever seen. Chris and Stephanie were present the day of our wedding and were extremely accommodating. We could tell that they really love what they do and they really are amazing at it! It felt like we were dealing with close friends throughout the whole process. We HIGHLY recommend BlueBridge!" 
-Bride, Meghan K. / Married 8.11.18
"We had the ABSOLUTE best wedding day at BlueBridge in Grawn, MI. The owners Chris and Stephanie were amazing and Polly the coordinator is one in a million. We live about 4 hours away from the venue which can make planning a wedding a little harder than it already is. The team at BlueBridge didn't skip a beat and helped me with every step along the way. Polly helped me make our wedding day everything we could have ever wanted and then some. Stephanie did an AMAZING job on all of the flowers. The venue already has lights hung inside and outside along with chandeliers in the chapel and reception area. The venue has so much character on its own we did not need to do much as far as decorating. The walls rolled up on the sides of both the chapel and the reception are to give an indoor/outdoor experience. Guests were able to hang out in the beautiful garden area set up with tons of nice picnic tables and a fire pit! If anyone is looking for a unique venue that gives you a classy backyard feel where you are away from it all and feel as though you are surrounded by nature BlueBridge is the place! We would do it all over again if we could, honestly the best night of our lives and we wouldn't have been able to do it without Chris, Stephanie, and Polly."
-Bride, Lauren M. / Married 8.18.18
"There are two great things about BlueBridge: 1) The amazing setting & grounds. It was the perfect size for our smaller wedding and was beautiful inside & out. 2.) The Staff! Everyone was so great to work with, whole team effort. Stephanie provided in-house floral services to us plus some extra decor we requested. My bouquet & the florals looked so good as did the rest of the decor. AMANDA, our assigned coordinator was the best to work with before and on the day of. Not only helpful to me but all my bridesmaids and family! Everyone at BlueBridge really loves the business & what they do, it really shows with the time & energy they put in to each bride & groom/family. We have received so many compliments continuously from family & friends on our special day there! We couldn't of made a better choice." 
-Bride, Andrea B. / Married 8.18.18
"There are so many words that I could use to describe our day, the best one that comes to mind is MAGICAL! If you are looking for a venue that is not only gorgeous and so serene but also comes with some of the most amazing, humble and genuine people that own and run it. Chris and Stephanie do not treat you as if you were a dollar sign but as if you were their own family. They are extremely accommodating and are always a phone call or email away if you have a question and you are never treated as if anything you chose or want to do is unacceptable. Now Brides everyone tells us not to stress the week of, the day of the wedding, but we all know we are going to do it, but let me tell you Amanda, will solve all your problems that week and that day. She will solve your problems even if they are not related to the wedding. She is hands down the best to have with you the week leading up to your wedding and the day of. You will not go wrong with the gorgeous location and the amazing people that will surround you and truly make it your best day ever!" 
-Bride, Bethany / Married 8.25.18
"We are beyond pleased with our experience at Blue Bridge. We planned our wedding from Detroit, MI (3 hours away) and it was incredibly stress free due to everything Polly and Chris did for us. They were available for a phone call whenever we needed, we're flexible to meet when we were in town, and were incredibly responsive with emails, text, and phone calls. Chris helped organize everything with alcohol and expenses. He was so helpful with including what we wanted, giving good ideas, and not pushing us to spend money where we didn't want to. The weekend of he was so incredibly thoughtful and helpful. He is a super sweet and kind and and willing to do whatever we needed to make the weekend great. Polly was so helpful with every little detail. She helped plan and brought up so many great ideas. The weekend of she took care of everything we needed. Our wedding day was so easy and stress free because of their help. They put their hearts into what they are doing and made us feel personally valued throughout the whole experience. The venue is beautiful and our guests were blown away by how naturally beautiful it was. It was overall an incredible experience and I would recommend it to any couple!"
-Bride, Lianna S. / Married 9.8.18
"Not only is BlueBridge incredibly beautiful on its own, working with Chris, Stephanie and Polly made our experience so incredible. We started working with them about a year and a half from our wedding date and everything was seamless. We had multiple special requests and they handled each of them with ease. On top of that, they took the vision I had and totally blew my expectation out of the water. We had our ceremony off site so when we arrived to the venue I was speechless and burst into tears. I had never seen a space more beautiful. If you are looking to blow your guests out of the water, work with an amazing group of people and have the most memorable evening of your life BlueBridge is your space for that." 
-Bride, Melanie C. / Married 9.15.18
"I don't even know where to begin! BlueBridge was the most magical venue I found in Michigan. Spending the day/weekend there and getting ready was so tranquil. Best way to start the biggest day of your life. Stephanie and Chris were incredible, helpful, flexible and extremely organized and prompt. They have been renovating this venue into a breathtaking environment. Stephanie really has the eye to decorate and is an excellent florist. We mixed our visions together and created the only fairytale masterpiece of a wedding I have ever seen and it was all MINE.. ours! Our coordinator (new best friend) Amanda was also the bees knees! She was more than what I ever imagined a coordinator would be. She was definitely more a friend, had my back where ever I needed her. We talked for a straight month, constantly, always answered us promptly. She had so much passion for our day and was just as excited about our little details as we were. She even sat in on our dance practices and cheered us on before our big performance. Amanda pitched in with my bouquet because she was so excited to create what I had envisioned. This girl not only tended to the bride and the groom but pretty much any guest who needed help with something. The staff was incredible, Grandview catering (what we thought was going to be a cheap meal, because we could seriously not afford much) was the most amazing meal ever! I'm not even kidding, their food was extremely tender and tasty (so use to bland wedding food) this was the opposite, DJ Shawn was the perfect match for us, and again Chris and Stephanie this place wouldn't be half as incredible without such a magical couple like them!!" 
-Bride, Chelsea G. / Married 9.22.18
"I could not have picked a better place! They are super friendly and always willing to answer questions. We went out there so many times when planning and they always made us feel like we were the center of attention. It's a perfect mix of indoor and outdoor and the larger venue can hold 250+ people comfortably with space to party which is rare in TC. I loved working with them and suggest to all my friends getting married in the area to set up a time to at least go look at them and talk with them. It was also really nice you have to go with their DJ and bartenders. It was less people we had to worry about interviewing and hiring. Also, I highly suggest you go with their day of coordinators. I made the mistake of not as the wedding was at a church and the reception was at blue bridge. One of my biggest regrets wasn't using their people. Also use them for the flowers. You won't regret it!"
-Bride, Alison F. / Married 10.6.18
"This venue is perfect. The building itself and the surrounding greenery are so beautiful and an ideal location for wedding photos. The owners and staff are so kind, patient, and caring. They make sure you are totally taken care of and happy with every detail. Our big day was beautiful from start to finish at BlueBridge – we didn't want it to end! We could not have imagined our wedding taking place anywhere else."
-Bride, Samantha B. / Married 10.17.18
"I feel lucky to have stumbled upon this venue! It exceeded my expectations. The owners are amazing- accommodating, detail oriented, and caring. They help you plan every step of the way. I never felt stressed. Polly is one of the wedding planners that comes with booking this venue-she is remarkable. She made me feel confident that my day would run smoothly. Not only does she possess a warm and comforting personality, but her planning skills are exceptional. She kept in touch with me the year leading up to my big day by providing helpful timelines and reminders. Polly also handled every detail the day of my wedding so my family could relax and enjoy the experience. This service is unique to the BlueBridge venue, and I'm happy to have be lucky enough to find them! Stephanie is the florist on site, and my flowers looked better than the Pinterest photos I sent her. She created exactly what I envisioned. Upon seeing the decor, I almost cried. It was perfect. The venue itself is also beautiful. They have chandeliers and lighted trees everywhere. Outside is lit with lanterns and lights. Very magical. You don't need to provide a lot of decor because the owners do such a good job making the venue itself beautiful. I'm so happy with my experience at this venue!"
-Bride, Maegan H. / Married 10.20.18
---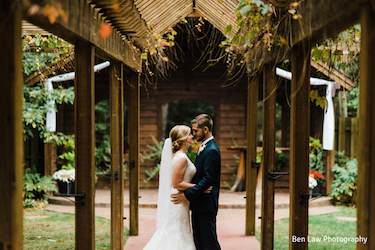 ---
Weddings
---
Our desire at BlueBridge is to partner with you so your day is everything you dreamed it would be while at the same time making it worry free.
---
---
Get Started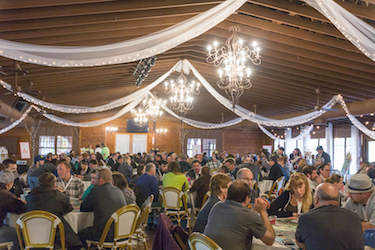 ---
Events
---
BlueBridge is truly the perfect location for your corporate or family event.
---
Get Started