TRAVERSE CITY WEDDING AND EVENT VENUE
Why BlueBridge?
BlueBridge is a beautiful property offering some very unique event spaces. In fact, this 10-acre parcel represents some of what makes Northern Michigan one of the most incredible places in the world. But we also want you to know that one of the things that also make us unique is the fact that we don't just want to serve you on your event day. We hope that the event itself is just the beginning of an ongoing friendship with you. You are always welcome to return to have lunch in the BlueBridge park on a picnic table or under the gazebo, walk the trail down to the water, or sit and have a cup of coffee with us. Once you have an event at BlueBridge, you are a part of our family.
Beyond the beauty of this Traverse City property and the three spaces, all of which offer a distinctive up-north feeling, we offer several things right on site such as DJ services, floral and décor services, accommodations and beverage services (both alcoholic and non-alcoholic) that we believe you'll find important as you consider the best venue for your big day, whether it's a wedding or another type of corporate, family or social event.
Our Story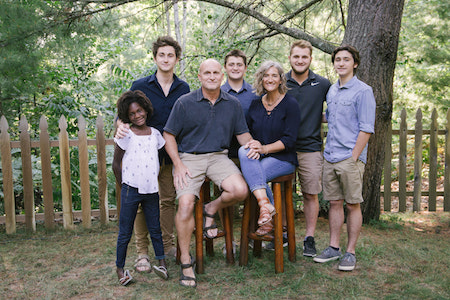 We are Chris and Stephanie McCrumb and have been married for over 24 years. We have five children between the ages of 9 and 22 and several of them work at BlueBridge with us. We have a passion for marriage and family life and we have both been involved in numerous weddings over the years serving as officiant, wedding coordinator, floral designer and decorator. We would be truly honored to partner with you whether it's for a wedding or any other special life event.
The name BlueBridge was initially inspired by the two small bridges on the property. But the bigger meaning has to do with the fact that we want BlueBridge to be a place of connection just like a bridge connects one place to another. Weddings, company parties and trainings, family events, and so many other events are all ways we can connect. BlueBridge is also a wonderful place to connect time through phases of life and big life events and a place to connect the past to a better, brighter future.
The word "Blue" in our name symbolizes loyalty, calm, peace, and trust. These things are things that drive everything we do because when it comes to the really important events of your life, we believe this is the type of environment that you're looking for and definitely what we are striving to create.
Environment

Temperature controlled environments as well as convenient, stress free back up plans for all venues for days when the Michigan weather is a little less than desirable.

Parking

Easy, convenient and close by parking for all sites.

Accessibility

Easy accessibility for elderly and/or disable guests including ADA bathrooms and easy wheelchair access to all sites.

Scenery

Numerous locations for beautiful photography including the bridges, a wedding swing, a large gazebo, BlueBridge park with a small vineyard, and access down to Ellis Lake by way of golf cart.
Convenience

Convenience by offering everything you'll need right here on site including DJ service, flower service, rehearsal dinner and Sunday brunch spaces, alcohol and bar tenders, and two fantastic, experienced preferred caterers.

Staffing

A wedding coordinator (included in venue price) to run the rehearsal and be there for the actual ceremony in addition to other staff during your event to make sure things run smooth.

Comfort

A big, beautiful bridal room large enough for eight to twelve people.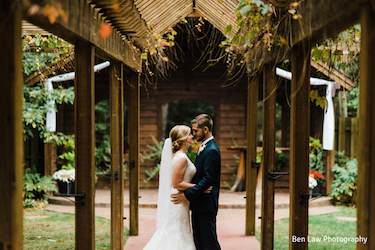 ---
Weddings
---
Our desire at BlueBridge is to partner with you so your day is everything you dreamed it would be while at the same time making it worry free.
---
---
Find Out More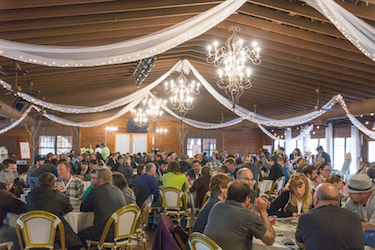 ---
Events
---
BlueBridge is truly the perfect location for your corporate or family event.
---
---
Find out more