TRAVERSE CITY WEDDING AND EVENT VENUE
BlueBridge Reviews
---
"To say that BlueBridge was absolutely amazing is an understatement. They know weddings, and have them down to a science. From providing a list of amazing vendors in the area, to providing us with Amy (their amazing event coordinator), by the time the day came, we were left with nothing to worry about. The venue is absolutely gorgeous, beautifully decorated, with a quaint woodsy feel, perfectly capturing the essence of "up north Michigan" in the most elegant way. We were very fortunate to book an August wedding, and were able to utilize the outdoor area which was beautifully lit and provided a space for our guests to mingle during our reception. The team was eager to do whatever was needed to make it our dream wedding day. From our first conversation, it was clear that they are passionate about what they do, and that translated into the most incredible day we could have asked for. I cannot recommend them enough!! 100000/10."
- Bride, Ali. M. / Married 08.18.23
"BlueBridge was literally everything we could have ever wanted for our wedding venue!! Their facilities are unique and beautiful, their help and attentiveness through the planning process was above and beyond, and their staff was TOP NOTCH…we literally felt like their team was family by the time our wedding was over. We got married on the "Bridge" side and had Polly as our day of coordinator. She made sure every detail was executed and our day was stress free! Stephanie brought my floral vision to life more than I could have ever dreamed of, and DJ Ray was exceptional! Chris did our tour last summer and made us confident this was where we wanted to get married. He made the beverage planning process easy as well as all of the payment schedules. The day of on-site team was amazing- making sure things were just how we wanted and making the experience for our guests great. I can't believe how many times we heard "this is the best wedding ever" or "this wedding venue is amazing where did you find it!!!" Overall, I could not say enough how happy we were with BlueBridge Events Centre - it made our wedding as memorable as it was."
- Bride, Samantha S. / Married 07.29.23
"Outstanding venue!! The staff is amazing. The venue is gorgeous. I love taking photos here."
- Photographer, Maria Horford
"We had an absolutely amazing  experience at BlueBridge. Our day of coordinator, Alyssa, as well as the rest of the staff, went above and beyond to make sure we had everything we needed and could want. We would recommend BlueBridge to anyone and everyone. The venue itself is breathtaking and easy to make your own for your big day."
- Groom, Reed B. / Married 07.28.23
"We 100% recommend BlueBridge! We toured BlueBridge about 14 months before our wedding and felt like a part of the family the whole time. They sent us detailed questionnaires about beverages, floral, wedding ceremony details, music details, etc. ahead of time. The coordinator and DJ also spoke with us ahead of time to make sure those questionnaires were gone through and details were taken care of. Also, it is so nice to have an in-house DJ, bartenders, coordinators, and florist. You DEFINITELY should do your flowers through them, too! So beautiful! I cannot say enough good things about BlueBridge except that everyone should get married here!"
- Bride, Danielle D. / Married 07.14.23
"My husband and I got married on the Blue Side of BlueBridge, and we could not have been happier with our choice! Right from the beginning before we even toured the venue, the staff was super communicative and helpful. The tour sold us immediately - the place is GORGEOUS and photos simply cannot capture how great this space is. Everyone is so professional and helpful through every step of the process and are so easy to work with. The day of the wedding could not have gone smoother with this team helping, and I really could not have had a better experience. I cannot recommend this venue enough!" 
- Bride, Miranda B / Married 06.23
"We were instantly impressed upon touring in 2022. The BlueBridge team truly cared about us and our day. They sincerely wanted us to have the wedding of our dreams and wanted to offer all the support they could to make it happen. From the preferred vendor list, in house vendor services (flowers, bar, and more), the constant availability to answer questions and guide us in our planning and day of coordination, a perfect day felt like a stress-free guarantee. We would give BlueBridge 6/5 stars if we could, I would recommend the BlueBridge team to anyone whether coming from in state or out."
- Groom, Luke T. / Married 06.23
"Hospitality. Respect. Value. Service. Those are just a few words to describe the people at BlueBridge. We knew from the second we stepped foot on the beautiful property that we wanted BlueBridge to be a part of our story. From the beginning stages of planning, to the second right before I walked down the aisle I felt valued as a customer and as a bride. Their beautiful venue speaks for itself, while the staff make the entire experience that much more special. It's obvious that everyone truly has a passion for what they do and they bring it to life through their own creativity and generosity. We can't thank BlueBridge enough for everything."
- Bride, Alexia S. / Married 6.16.23
"I cannot recommend BlueBridge Events enough!! Surrounded by natural beauty, it provided the most picturesque backdrop for our ceremony and reception. The lush greenery, breathtaking pines, and sunset by the lake created a romantic atmosphere that left us in awe. The staff at this venue is simply outstanding. From the very beginning, they were warm, welcoming, and genuinely invested in making our wedding day unforgettable. They went above and beyond to ensure that every aspect of our celebration was flawless, and their dedication truly made us feel special. Planning a wedding can be overwhelming, but choosing BlueBridge made the entire process a breeze and the day as stress-free as possible."
- Bride, Chelsea D. / Married 6.10.23
"What a wonderful place for an event!!!! Beautiful setting and AMAZING staff. Thanks so much for hosting Munson Family Practice GME Graduation!" 
- Mary Ellen / BlueBridge Event
"We booked BlueBridge (Bridge Side) for our wedding in May 2023. There aren't enough words to explain how amazing the entire process of wedding planning was. On our initial tour of the venue 10 months prior, we felt embraced and taken care of. Every single one of the staff members that we encountered were beyond fabulous, attentive, and helpful. Our guests LOVED the venue. The grounds were well taken care of and had so many added touches that made it light up and look beautiful. The chapel was perfect to get married in. Our planning process went incredibly smoothly. They are a well oiled team and thought about every detail! It was easy to book, plan, and coordinate our day because of everyone that helped. The wedding day was fabulous, perfect, and amazing. The crew were eager to work and make our dreams come true. The DJ had the dance floor going, the bartenders had the drinks flowing, and the managers and planners made sure the day went without a hitch. If I could book every event with them, we would again and again."
- Bride, Cortney B. / Married 05.23
---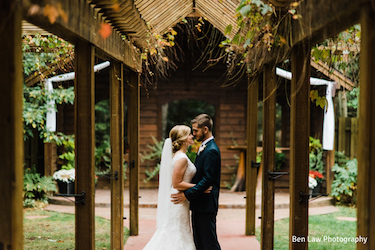 ---
Weddings
---
Our desire at BlueBridge is to partner with you so your day is everything you dreamed it would be while at the same time making it worry free.
---
---
Get Started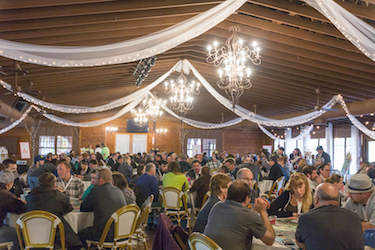 ---
Events
---
BlueBridge is truly the perfect location for your corporate or family event.
---
Get Started