TRAVERSE CITY WEDDING AND EVENT VENUE
BlueBridge Reviews
"We are counting our blessings that we found such a perfect place for our wedding! We knew we wanted to find a location that could hold a larger guest count (close to 200), would have the charm of Northern Michigan, and be located close to Traverse City…and boy did we hit the jackpot with BlueBridge. We were able to create the most memorable ceremony at the Bridge Chapel, perfectly located allowing our guests to have an outdoor experience with all the indoor amenities. The recent updates and work put into this venue are so evident, as it is a gem located in the perfect Northern Michigan setting. We were so thankful for finding such an amazing location with owners that were family oriented and down to earth. They worked very hard to allow us to create our perfect day, and we will forever be grateful. We highly recommend this venue and encourage all couples looking to create a beautiful, enjoyable and timeless celebration of love to consider making BlueBridge their venue for the big day." – Maggie P.
"Chris and Steph took great care of us all day, making sure we had what was needed, leading all the way up to the wedding. Our wedding day was nothing short of spectacular! The venue owners are extremely knowledgeable, compassionate and kind individuals. They will help bring the wedding of your dreams to life! I can attest, because they truly helped my husband and I have our fairy tale wedding. I wish I could do it all over again!" – Ree M.
"My husband and I just got married at the Chapel Centre on Saturday, March 3rd, and let me tell you, we could not be more pleased by the combination of the owners, the PHENOMENAL work of the coordinator (Polly), the beauty of the venue, and the ease of working with all of the staff there. When looking at venues it seemed to be a no-brainer when choosing this venue for its beauty; however, it turned into so much more than that! Stephanie and Chris were so easy and wonderful to work with and they were extremely accommodating to many of our wishes and wants. Polly was extremely organized and helped turn our wedding visions into a reality; she coached me through the entire process once we got closer to our wedding date and laid out our wedding plans so that I could easily envision every detail and helped make my day the best I have ever had. I strongly encourage any engaged couples (or someone else looking to host an event) to look into this amazing venue. You will not be disappointed in their customer service and they will definitely help make your event everything you have imagined for it and more!" – Hilary J.
"Words cannot describe the hospitality you provided for us and our families our wedding weekend. It was truly an unforgettable moment and we felt so at home at BlueBridge. Our guests raved about the venue and service, all of the details were absolutely perfect. We can't wait to come back and visit soon!" – Samantha W.
"My husband and I were married at BlueBridge on May 19 and we could not have picked a more perfect venue to host the best day of our lives! We received so many compliments from our guests on how beautiful everything was and how great the service was! I cannot imagine planning without Chris, Stephanie and Polly; they made all of our visions come to life and truly went above and beyond in all areas. We utilized BlueBridge for virtually everything; rehearsal dinner, getting ready, ceremony, reception, bar/alcohol, took their recommendations for catering with Grandview (which was phenomenal!), our DJ (Scot kept the party alive the whole night), and Stephanie created the most beautiful flower arrangements for the entire thing! I cannot give enough praise to Polly who walked me through the planning process and was there with me throughout the day. She took all the details and stress away from me and calmly ran our wedding day on schedule without a hitch! There is not a single negative that I have about this venue. We were treated like family and were blessed to have these wonderful people with us to start our marriage! We have already recommended BlueBridge to others (even though we secretly want this fairytale venue all to ourselves, lol!) and will continue to do so! Cheers to you BlueBridge! A million times, THANK YOU!!!" – Jamie V.
"Our wedding was a beautiful event and we were very pleased. Your venue was a perfect fit for our vision of a beautiful Northern Michigan wedding." – Mike + Pam
"Chris, Stephanie and Polly, I cannot even begin to tell you Thank You for everything you did for us this past week/weekend! Emma and Alex's wedding and reception went off better than we could've imagined and that is all due to you guys. I honestly cannot imagine what I would've done without your team. Not only were you organized, prepared and readily available, but you also could anticipate possible issues then step in and kindly make suggestions. It was so reassuring to know you had everything under control. Polly- I wanted to take you home! My sister and I both said that you were invaluable (and a whole lot of fun)! You were always calm and level headed while being considerate and compassionate. I don't think there could be a more perfect person for your position! I can't tell you enough that you truly took the burden of the wedding day off my shoulders and I am so appreciative! Stephanie- The flowers were amazing! Thank you for capturing exactly what Emma wanted." – Julie + Mark A.
"We had our wedding at this venue on July 15th and it was perfect. Especially considering, we live in LA and we had to plan everything remotely. Chris and Stephanie were so awesome from day one, helping us organize the whole thing until the last minute. You can tell they really care about their business and people they serve to. Don't go anywhere to arrange flowers, Stephanie does an amazing job and she has a great taste. I seriously couldn't ask for a better wedding and better people to work with. The venue is gorgeous, we had a small wedding and that is why we used the Woodside Chapel tent area. They took care of the garden so well, it was very green and beautiful. Even if it would rain, the tent would easily cover 50 people. I honestly don't know what else to say, it was perfect. Thank you so much for everything Chris and Stephanie!" – Ilgi
"I was recently the maid of honor in a wedding held at this beautiful venue. The staff was extremely helpful to accommodate a music surprise during my speech and to make the day run smoothly for the entire bridal party. Polly was fantastic and so approachable for every single question or concern. I would recommend this place over and over." – Kari N.
"My son and his wife had their wedding at Blue Bridge Event Center on July 22nd. Everything went really well, from the pre event planning with Chris and Stephanie to the day/evening of the wedding ceremony and reception with Chris and Polly present, assisting us every step of the way. They helped with last minute table changes when guests showed up with unexpected friends, (ugh!), with keeping us all on schedule (not an easy task for this family, lol), with helping us take down and pack up our decorations, and more. They were amazing! The facilities are wonderful too! The ceremony was done in the outside chapel and the surroundings are beautiful. The reception facility was just renovated and it is wonderful, fresh and clean! Highly recommend!" – G.
"From start to finish the team here provided us with such a great experience for our wedding. Polly was absolutely amazing to work with. She was always efficient, prompt, flexible, helpful and full of support. On the day of, Polly was with us every step of the way. The venue is absolutely stunning, and we couldn't imagine anywhere better. Thanks again for the beautiful memories!" – Chelsea W.
"BlueBridge was the first stop on my husband and I's list of venues to look at, and a combination of the friendliness of the ownership and the "vibe" of the venue are what convinced us it was the perfect place. We weren't disappointed and were blown away how our day came together! Chris and Stephanie were willing to work with our design ideas to create the perfect experience for our guests over Halloweekend. They went above and beyond to make sure that the day went off without a hitch – from giving tips and tricks during the rehearsal to providing one of our groomsman with a leaf blower for his "Ghostbusters" entrance! Their communication and willingness to be flexible were a feeling my husband and I soon won't forget. The venue itself has great facilities that make it ideal for a Northern Michigan wedding – rain or shine. We hope to return to the venue and to stay in touch with Stephanie and Chris over the years because they truly made it more than just a venue – they made it a memory!" – Kaila + Jake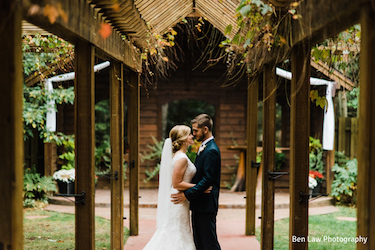 ---
Weddings
---
Our desire at BlueBridge is to partner with you so your day is everything you dreamed it would be while at the same time making it worry free.
---
---
Get Started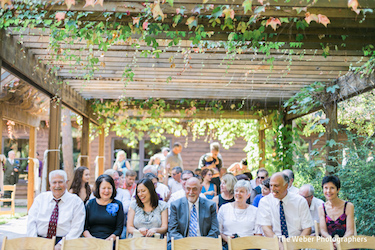 ---
Events
---
BlueBridge is truly the perfect year-around location for your corporate or family event.
---
Get Started